---

Follow Eddie on
race weekends at



-

Monthly Racing Commentary with
LEW BOYD
BEING EDDIE MACDONALD
---
2018
---

Eddie Mac to Make a Run at 2018 ACT Title
Monday, April 09 2018 - Contributed by: ACT Staff
After spending the 2017 season up to his "Outlaw" ways, Eddie MacDonald will be rejoining the American-Canadian Tour (ACT) championship battle in 2018. The Rowley, MA driver has filed a full-season entry for the ACT Late Model Tour and will pursue the $10,000 prize for winning this year's title.

MacDonald last ran the full ACT campaign in 2016 when he finished third in the standings. He won two events last year as part of a limited schedule, giving him nine Tour victories in his career. In addition, he is a 5-time winner of the ACT Invitational at New Hampshire Motor Speedway and triumphed in the 2014 Vermont Milk Bowl.

"When the ACT schedule came out, a lot of the races interested us," MacDonald said. "We always try to plan our season out with the races that we'd like to run, and most of the races on the ACT schedule were ones that we would enjoy going to anyway. So we figured we might as well hit a couple extra ones and do them all.

"We don't usually worry about points," he added when asked about his title chances. "Our thing is that we just try to go out and run the best we can every week, and everything else plays into that and however it works out. Our goal is still the same – to go out there and try to win every week. You know that's not going to happen, but you still try to do the best you can and try to at least get a decent finish in the races that are more challenging."

The 2018 ACT title hunt gets underway on Sunday, April 29 at Barre, VT's Thunder Road Speedbowl for the Community Bank N.A. 150

For the second time in April, American-Canadian Tour (ACT) and Lee USA Speedway officials have announced the postponement of the 28th New Hampshire Governor's Cup, citing unsuitable ground conditions at the facility. The event has now been rescheduled for Saturday, May 12 at 2:00pm. Eddie was the 2014 Governor's Cup winner at the track his parents Red and Judy MacDonald owned and operated for many years. The track was sold to Norman Wrenn II this past winter.

"We're looking forward to going to Lee," MacDonald said. "We don't usually get to run the Test & Tune day beforehand, because usually that weekend we're in Bristol. So we're looking forward to being able to have that test day ahead of time. We'd really love to get a win at Lee. The track means a lot to me, and I always want to win that race, being the first one of the year. We were lucky enough to do that once before, and we're going to put in all the effort we can to try and make it happen again this year."

MacDonald will have plenty of competition at Lee and throughout the season. Defending ACT U.S. Champion Scott Payea of Milton, VT returns in search of a second straight title, while Williamstown, VT's Jimmy Hebert and Lebanon, NH's Rich Dubeau rate to be consistent challengers. Defending Thunder Road Late Model Champion Bobby Therrien of Hinesburg, VT has entered the Governor's Cup as has Barre, VT's Mike Ziter in a car prepared by Joey Pole Racing.
---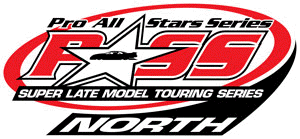 44th Annual ICEBREAKER

Sunday, April 8, 2018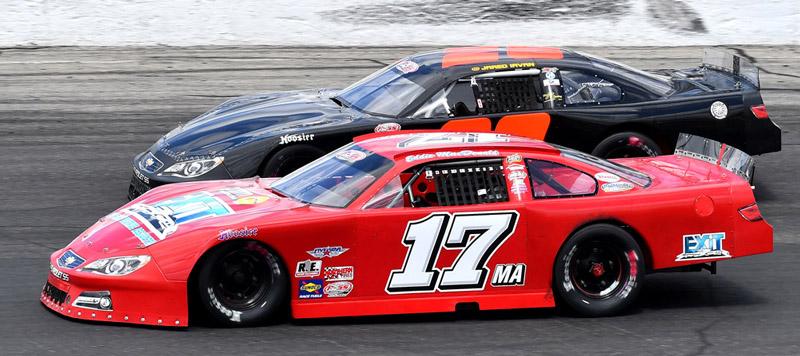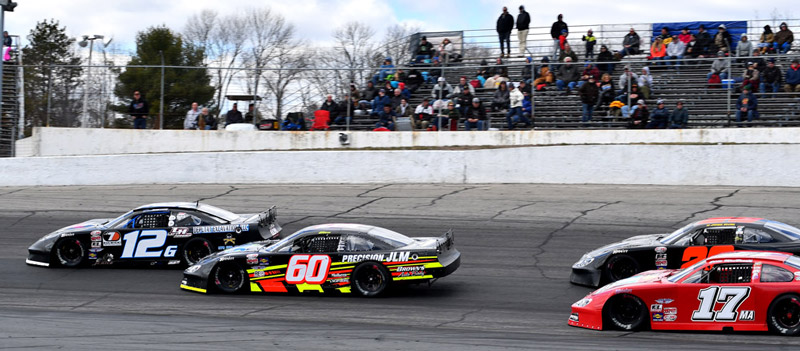 6th in the PASS Thompson Icebreaker
Photos by Norm Marx

Photos by Richard Casey
Eddie MacDonald Finishes Sixth
in the Icebreaker at Thompson
Eddie MacDonald appeared poised to claim another Icebreaker PASS (Pro Series All-Star Series) title at Thompson Motorsports Park on Sunday, May 8, with an impressive Saturday practice. However, a mismatched set of tires for qualifying and the race negated a positive chance to repeat as champion. Eddie Mac scored a disappointing sixth place finish in the EXIT Realty sponsored Chevy.

Eddie Mac posted the fastest time in the opening segment in the first practice and with a minor adjustment improved his time to run fourth fasted in the second segment. Eddie Mac ran in the top three in the second and final practice before bolting on new Hoosier tires for the ten lap qualifying race to follow. At the drop of the green flag, it was obvious that the car was not the same fast, handling car Eddie Mac had in practice.

Eddie Mac started 11th in the heat and moved into sixth place but was unable to move up. Upon returning to the pits the team quickly discovered the mismatched left front tire. As the University of Texas coach Darrel Royal frequently stated, "You have to dance with the one who brung you," and the same held true for Eddie Mac and the team. Rules dictate only four designated tires could be used for the race so crew chief Rollie LaChance had to devise a plan overnight to overcome this dilemma.

After the mandatory fan appreciation Sunday morning the team worked feverishly to implement the changes, starting with putting the left front on the left rear in hopes of stabilizing the car in the turns. A number of other adjustments were completed in time for the car to roll out on the starting grid for the 100 lap event,

Eddie Mac started ninth in the field after two cars went to the back and was able to begin a solid run to the front. By lap ten, Eddie Mac had the Dave Lemieux owned #17 in fifth place and heading toward the front with the notable difference that the car would not handle high in the turns, forcing Eddie Mac to stay on the bottom of the track. The inability to run up top would ultimately become a major factor with 25 laps to go.

At the halfway flag, Eddie Mac ran in the fourth position in a heated battle for third with Jared Irvin, the son of NASCAR legend Ernie, with Eddie Mac saying afterward, "I had to use up a lot of the tires to get by Jared and that put a lot of pressure on the right front since I could not go high. I eventually got by him on lap 65 but the car was already sliding the nose in the corners. I was hoping it wouldn't get worse but it always does."

Despite the gallant effort of the driver and crew, the tire situation couldn't hold out any longer as Eddie Mac lost three positions over the final 25 laps to post the sixth place finish saying, "It really is something when one mismatched tire can change the outcome of a race. We were really happy with the car in practice and believed we could contend for the win. To have this happen is frustrating and disappointing. Rollie and I thank car owner Dave Lemieux and Brian Neal for everything they do. Even in the frigid cold Dave's mother Barbara and sister Denise were there cheering us on and we really appreciate the food and sweets they bring each race. Thanks to Derek Beatrice from EXIT Realty and Rob Grimm for their support and especially the crew that worked tirelessly in the cold, windy weather to get the car ready. We have a month break so we will be busy in the shop getting ready for our next race."

Eddie Mac will take the PASS green flag again on Saturday, April 14 at the Oxford Plains Speedway.
Eddie Mac Ready to Defend PASS Title
in Icebreaker at Thompson
Eddie MacDonald opened last season's PASS schedule with a victory at Thompson Motorsports Park's Icebreaker and hopes to repeat that performance this Sunday, April 8 on the famed Thompson speedway. Eddie Mac will pilot the Dave Lemieux owned Pro Stock in as many as nine events with his sights set on an Icebreaker win.

"Racing at Thompson is always fun and you couldn't ask for anything better than starting the season off competing in the Icebreaker," said the Rowley, Mass. veteran racer. "Everyone is excited to get going this season and we have the car ready to go so it should be a lot of fun. EXIT Realty Beatrice Associates will be our main sponsor for this race and we are thankful to Derek Beatrice for all his help. We had a great car last year in the opener to get the win so the goal we have is to get another victory to start the season."

The Pro All Star Series race on Sunday is scheduled for 100 laps as opposed to 75 laps last season with practice and qualifying scheduled for Saturday. The first practice is 9:30-9:55 AM, with the second and final practice 11:50-12:15 PM. Qualifying races of 10 laps are scheduled after the 12:15 opening ceremonies with consolation races, if necessary, of 12 laps to follow later in the afternoon.

"We don't have a lot of practice time so it is very important to have the car set-up and ready to go right from the start of practice," said Eddie Mac. "Rollie (crew chief Rollie LaChance) and I know what we need to have to be competitive at Thompson but we have to be ready to make quick adjustments. Everyone is in the same boat so it will fun to get things dialed in for qualifying. This track is very fast with long straights and high banked corners so the car has to have a lot of power but also needs to turn in the corners. You can't win at this track unless you have both."

"None of this would be possible without the help of a lot of people and we are thankful to have the continued support of many of the same people through the years, "said Eddie Mac. "Dave Lemieux (Lemieux Home Builders) and Brian Neal (Neal Excavating) have given us everything we need to be successful. Derek Beatrice has been great as well as Rob Grimm. Our Late Model owner Freddie Peterson (Peterson Auto Body) helps us out and huge thanks to Paul Rinaldi for his engine building expertise. Our crew from last year will be returning and their experience and dedication is a huge part of our success. We hope to see a lot of our friends at Thompson this weekend."

Eddie Mac's American Canadian Tour first race this season will take the green flag at Lee USA Speedway in the New Hampshire Governor's Cup 150 rescheduled for Sunday, April 22 with practice on Saturday, April 21.
---
2018 SCHEDULE
Date
Track
Location
Length

Sun.




4

/8


Thompson Speedway
Motorsports Park

The 44th Icebreaker
Thompson, CT
.625

Sun.




4

/22


Oxford Plains Speedway

The Honey Badger
Bar & Grill 150
Oxford, ME
.375

Sun.




4/29


Thunder Road Speedbowl

The Community Bank 150
Barre, VT
.250

Sun.




5/12


Lee USA Speedway

The New Hampshire Govenor's Cup
Lee, NH
.375

Sun.




5/20


Oxford Plains Speedway



The Oxford 150

Oxford, ME
.375

Sat.




6/2



Speedway 51

The Caron Fabrication 151
Groveton, NH
.250

Sat.




6/16


New London Waterford Speedbowl

The Waterford 150
Waterford, CT
.375
Sat.
6/24

New Hampshire Motor Speedway

$5000 to Win - 50 Laps
Loudon, NH
1.058

Sat.




7/14



Speedway 51

The JP Sicard & Kingdom Gravel 151
Groveton, NH
.250
Sat.
8/4


White Mountain Motrosports Park

The White Mountain 150
North. Woodstock, NH
.250
Sat.
8/25

Oxford Plains Speedway

The Oxford Plains 150
Oxford, ME
.375
Sun.
8/26

Oxford Plains Speedway


Oxford, ME
.375

Sun.




9/2


Thunder Road Speedbowl

The Coca Cola Labor Day Classic 150
Barre, VT
.250

Sat.




10/13


Thompson Speedway
Motorsports Park

The 55th Sunoco World Series
of Speedway Racing 75
Thompson, CT
.625

Sat.




10/20


Richmond Raceway

200 Laps
Richmond, VA
.750
---
---
Grimm Racing Is More than Just Winning
Racing may be about winning but it also has plenty of room for support and compassion for people and causes and this is what Grimm Racing is all about. If anyone has any doubt about the validity of the statement, all they have to do is to look at the vinyl covering the car. The MS, New Path Adventures, Boston Strong logos, and the Eric Williams emblem are displayed on every Grimm car.

Recently Megan Spaulding, the daughter of Carla and Rob Grimm, was diagnosed with Multiple Sclerosis. In an effort to support MS Awareness Week, the #71 carried the logo for the first race on the rear quarter panels at Bristol. Rob Grimm decided the MS banner would be permanently displayed on the car for the entire season. The family and members of Grimm Nation will participate as the "MS Warriors" in the May 5 MS Walk at Pocono Speedway. (http://walkpae.nationalmssociety.org)

The Grimm family was deeply moved by the horrific events on Marathon Monday in Boston and the decision was easily reached to display the "Boston Strong" ribbon on the car. Eddie MacDonald and many of the team members call the Boston area home and felt the need to support those killed, injured, and their families was something Grimm Racing does for all those in need.
(onefundboston.org)

Rob Grimm decided that "New Path Adventures" logo would be displayed on the back of the car for the season. New Path Adventures is based in Dallas, Texas and ministers to troubled youths ages 13-19. Crew member Steven Owens, nephew of Rob Grimm, is proud to say his brother Jonathan Owens and Alan Owens offer guidance and a positive change in the choices these youngsters make in their daily lives. The Spanish to English Ministry recently completed a very successful bike ride across the state of Texas, an 865 mile journey, to raise money. Alan and Jonathan work with a group of 7-10 youngsters by taking them from their environment and harmful behavior, minister to them while living out of backpacks in the wilds of Texas. NewPathAdventures.org is a good source for information.

On February 25, 2013 Corrections Officer Eric Williams was murdered in the line of duty at the U.S Penitentiary located in Canaan, Pa. that is within sight of the Grimm Racing shop in Waymart, Pa. In order to honor Officer Williams and those men and women that serve, every Grimm car will display the emblem for the remainder of the season. (www.facebook.comCorrectionalPeaceOfficersFoundation)

Being a member of Grimm Nation is much more than supporting the #71 on the track. It means a commitment to show support for those in need.

---