---

Follow Eddie on
race weekends at



-

Monthly Racing Commentary with
LEW BOYD
BEING EDDIE MACDONALD
---
2019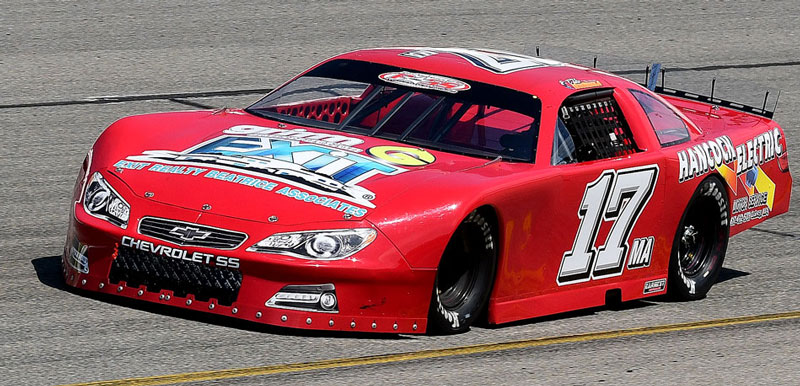 Eddie MacDonald Recovers from Friday Practice Crash to Post Sixth Place Finish in Open SLMs
Eddie MacDonald posted a very satisfying sixth place finish in the Pro All Star Series 75 lap Inaugural Commonwealth Classic at Richmond Raceway after a Friday practice crash. A punctured tire entering turn one sent Eddie Mac careening up the track and hard into the wall. The extensive right side damage left serious doubt if the car could be repaired.

After evaluating the damage and locating the necessary replacement parts on hand, crew chief Rollie LaChance and Eddie Mac decided to try to fix the car in time for the Saturday race. With the crew ready to go and with the help of other teams for tools and parts, repairs began shortly after five o'clock and ended shortly after midnight. Without the permission and cooperation from the people at Richmond the repairs would not have been possible.

"First of all we owe a great deal of thanks to Richmond Raceway for letting us stay in the garage long after everything closed up," said Eddie Mac. "We had a great run on Saturday thanks to the fantastic efforts of our guys with some help for parts and tools we did not have from other teams. We are competitors on the track but we always help one another whenever we can off the track. There was so much right side damage it took the efforts of all twelve of us to get the car fixed. Thankfully, we had and extra rack thanks to Brian Neal, otherwise our day was finished."

In the first three practices on the 3/4 mile D-shaped track at the famed Virginia raceway, the #17ma Dave Lemieux owned Super Late Model ran seventh, fourth and fourth before the fourth 15 minute final practice when the tire blew sending it hard into the wall in turn one with Eddie Mac saying, "I did not have any notice something was wrong until it let go and then it was into the wall. I thought it was going to hurt but fortunately the safety of these cars is incredible. However we bent at lot of things and we had to make the decision whether we could fix it."

"We checked to see if we had the necessary parts and then Rollie and I decided to try to fix it," said Eddie Mac. "We are so thankful to have the crew of guys we have. I would not have been racing today if it were not for these guys. We have been together for many years and everyone works together to get the job done."

Raceday on Saturday morning the crew was back at it stringing, scaling and doing the usual prep for practice, qualifying and the 75 lap feature later on Saturday night. Rollie and Eddie planned the first practice would shake down the car the first couple of laps but the Rowley, Mass. veteran racer said, "The car felt so good I decided to go for it right away and it really ran great. I was happy with it. We make a couple of small adjustments for the second practice and qualifying. We qualified 13th but we thought we would have a good piece for the race."

When the green flag flew, Eddie Mac was able to maintain his starting position on the track despite a tight condition that became worse leading to the scheduled break on lap 40. New tires and adjustments were made as Eddie Mac found himself on the bottom of a three wide position on the restart lap. In typical, vintage Eddie Mac fashion, he powered past the two outside challengers and into 11th position and started marching forward. By lap 50 and still dealing with a tight car, the #17ma EXIT Realty, Hancock Electric sponsored ride moved to eighth and into seventh by lap 70 while holding off the Derek Griffith challenge. Eddie Mac took the checkered flag in 7th but was awarded the sixth position when the winner was disqualified for an illegal part.

"I am really happy with the finish and extremely proud of the work our team did to get us on the track," said Eddie Mac. "Thanks to car owner Dave Lemieux (Lemieux Builders) and Brian Neal (Neal Excavating) and our sponsors Derek Beatrice from EXIT Reality in Middleton, Mass. and Kenny and Scott Thompson from Hancock Electric in Quincy, Mass., Rob Grimm from Grimm Construction, HMS and Schroth Racing, and Freddie Peterson from Peterson Auto Body in Peabody. It was really nice to have Chuck Grimm, Rob's father, Steve Vasey, and Dave Biglin in attendance. Those guys were a big part of our K&N team and it is awesome they still come from Waymart, Pa. to support us."

"We will get this car fixed and ready for Loudon in June and we are waiting for Freddie Peterson's new car to be completed and we will be racing that also in a number of events," said Eddie Mac.
Photos by Richard Casey

Photos by
Norm Marx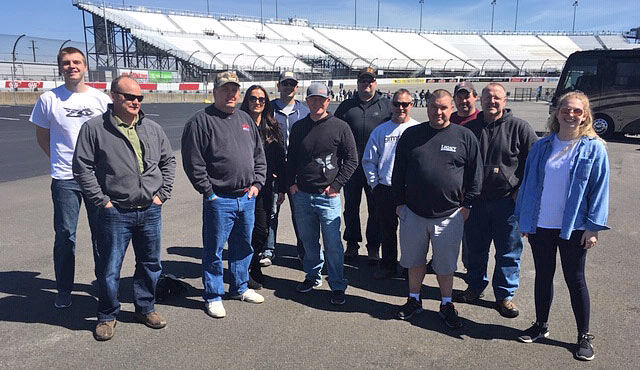 The crew is ready to unload at Richmond! (Richard Casey Photo)
Eddie MacDonald Will Open the PASS Season
at Richmond Raceway
Eddie MacDonald will pilot the Dave Lemieux Super Late Model in the Inaugural Pro All Star Series Commonwealth Classic on Saturday, April 30th on the famed D-shaped 3/4 mile Richmond track. The Rowley veteran will compete in the Open SLM PASS race scheduled for 75 laps as part of the six division races on tap for the Virginia speedway.

"We have been waiting for this day to come and everyone associated with this team has been working hard to get our car ready for this race," said MacDonald recently in the Newburyport, Mass. shop. "Rollie (LaChance-crew chief ) and I have a lot of experience at Richmond from our days in the K&N Series and we hope this experience will give us an edge on the stiff competition already signed up for the event. We are very thankful to car owner Dave Lemieux (Lemieux Builders) and Brian Neal (Neal Excavating) for giving us the opportunity to race this weekend and we would like nothing better than to win this inaugural event."

Eddie Mac's best finish at the Richmond facility was a fourth place finish after starting last in the K&N race. With nearly 40 cars entered in the race to date, all the track knowledge will play a major role in challenging for the win. The #17Ma. entry won a number of big races in the last couple of years and Eddie Mac knows what it takes to win in this highly competitive series.

"Richmond is a tough place to get around with the D-shape configuration because you are continually turning down the front straight, then a straight back stretch with two different sets of turns at either end," said Eddie Mac. "It is difficult to set up the car but hopefully our experience there will give us the information necessary to get around the track. And oh yes, you have to be fast. We count on Paul Rinaldi, our engine builder, to give us the power and speed you need at Richmond. Paul has provided great engines in the past and this weekend should not be any different."

"Of course, you can't do any of this without great sponsors and crew members," continued Eddie Mac. "We have been so fortunate to have both with us for a number of years. EXIT Realty Beatrice Associates will again help us this year. Derek (Beatrice) is an awesome guy and has really helped us a great deal and we appreciate his support. Our long time sponsor, Hancock Electric will be with us again this season and we owe huge thanks to Kenny and Scott Thompson for their sponsorship for twelve years. Grimm Construction, operated by our K&N team owner Rob Grimm, will be on the car this weekend and his support means everything to us. Freddie Peterson from Peterson Auto Body has helped us considerably with this car while building a Pro Stock/SLM we will race in a number of races in the local area. Freddie has done so much for us and continues to be a huge help in our Richmond efforts. We also appreciate the support from HMS Motorsports-Schroth Racing."

"We are blessed to have a group of people to work tirelessly in the shop and at the track and have been together for years," said Eddie Mac. "We owe so much to: Tom Rice, Brian Neal, Ryan LaChance and his mom Laura, Rob Drandson and his wife Jolene, Dave "Logger" Ricker, Kelyn Harrell, Kenny Grooms, Dick Casey, Hoppy, and Bobby Wood."

The schedule includes tech on Thursday with practice for all divisions beginning on Friday from 11-5. Race day activities on Saturday begins with practice 9-12 followed by time trials at 1:00 p.m. with the racing scheduled to begin at 3:00 p.m.
---
2019 SCHEDULE
---
---
Grimm Racing Is More than Just Winning
Racing may be about winning but it also has plenty of room for support and compassion for people and causes and this is what Grimm Racing is all about. If anyone has any doubt about the validity of the statement, all they have to do is to look at the vinyl covering the car. The MS, New Path Adventures, Boston Strong logos, and the Eric Williams emblem are displayed on every Grimm car.

Recently Megan Spaulding, the daughter of Carla and Rob Grimm, was diagnosed with Multiple Sclerosis. In an effort to support MS Awareness Week, the #71 carried the logo for the first race on the rear quarter panels at Bristol. Rob Grimm decided the MS banner would be permanently displayed on the car for the entire season. The family and members of Grimm Nation will participate as the "MS Warriors" in the May 5 MS Walk at Pocono Speedway. (http://walkpae.nationalmssociety.org)

The Grimm family was deeply moved by the horrific events on Marathon Monday in Boston and the decision was easily reached to display the "Boston Strong" ribbon on the car. Eddie MacDonald and many of the team members call the Boston area home and felt the need to support those killed, injured, and their families was something Grimm Racing does for all those in need.
(onefundboston.org)

Rob Grimm decided that "New Path Adventures" logo would be displayed on the back of the car for the season. New Path Adventures is based in Dallas, Texas and ministers to troubled youths ages 13-19. Crew member Steven Owens, nephew of Rob Grimm, is proud to say his brother Jonathan Owens and Alan Owens offer guidance and a positive change in the choices these youngsters make in their daily lives. The Spanish to English Ministry recently completed a very successful bike ride across the state of Texas, an 865 mile journey, to raise money. Alan and Jonathan work with a group of 7-10 youngsters by taking them from their environment and harmful behavior, minister to them while living out of backpacks in the wilds of Texas. NewPathAdventures.org is a good source for information.

On February 25, 2013 Corrections Officer Eric Williams was murdered in the line of duty at the U.S Penitentiary located in Canaan, Pa. that is within sight of the Grimm Racing shop in Waymart, Pa. In order to honor Officer Williams and those men and women that serve, every Grimm car will display the emblem for the remainder of the season. (www.facebook.comCorrectionalPeaceOfficersFoundation)

Being a member of Grimm Nation is much more than supporting the #71 on the track. It means a commitment to show support for those in need.

---