2009 Race Stories and Photos
August 1st to October 24th

Eddie MacDonald Wins Lincoln Electric/Airgas NHMS Track Championship

Friday, October 23, 2009

Eddie MacDonald of Rowley, Mass. has won the 2009 Camping World Series East Lincoln Electric/Airgas Track Championship at New Hampshire Motor Speedway.

Driving the No. 71 NEMO/Grimm Construction Chevrolet, Eddie finished sixth in the Heluva Good! 125 in June and won the second Heluva Good! 125 in September. MacDonald scored a total of 15 bonus points at the speedway in 2009 which led to his second consecutive Lincoln Electric/Airgas Track Championship.

Ryan Truex of Mayetta, N.J., placed second in the Camping World Series East Track Championship standings. Behind the wheel of the No. 00 NAPA Toyota, Ryan finished second in June and third in September at the Heluva Good! 125 races. Truex is the brother of NASCAR Sprint Cup Series driver, Martin Truex, Jr.

Kevin Swindell, driver of the No. 9 Curb Records Chevrolet, was third in the Lincoln Electric/Airgas Track Championship point standings for the Camping World Series East. The Germantown, Tenn. native finished third in June and 10th in September. This is Swindell's first season competing at New Hampshire Motor Speedway.

The Lincoln Electric/Airgas Championship awards a total purse of $10,000 to the top three drivers of both the NASCAR Camping World Series East for the events held at New Hampshire Motor Speedway. The Track Championship standings are based on the NASCAR point system for each division.

22nd PLACE FINISH at MEMPHIS
Eddie MacDonald and the Go Green Racing Team joined forces for the first time to post an impressive 22nd place finish in the Nationwide Series' Kroger On Track For The Cure 250 at Memphis Motorsports Park. While a run in the 22nd position would generally not attract too many accolades, what the
team accomplished to get to the finish was nothing short of remarkable. Certainly, the David vs. Goliath comparison can be used in this instance.

Archie St. Hilaire, owner of the Go Green Race Team headquartered in Maine, decided a while ago that running in a Nationwide race was something within his reach so he purchased a car down South, rented space in a shop in Charlotte, installed a Roush engine, put together a crew, and found a driver. The crew chief was Buddy Derocher and the driver MacDonald. Together they would embark on a quest to qualify and finish on the demanding ¾ mile oval of Memphis.

Because it was the team's first attempt to qualify for the race, the team was listed as "new" on the entry list. MacDonald had to make the race on time. To make matters worse, 50 cars showed up for the 43 spots. To complicate matters even further, among the "Go or go homers" were a number
of "start and park" entries that are only set up for qualifying, then run a few laps in the race in order to collect the $15,000 or so starting money.

It seems like a lot but it was the car's first run of the season and MacDonald's first race on the unforgiving radial tires used in the series. Throw in a crew that had never worked together and it would appear the team was doomed before the car ever took the track. Of course, one thing you
learn in racing is "never say never". After the first hour and a half practice on Friday the best they could do was 44th fastest, or slowest. Derocher and the crew tried everything but the car was nearly a second slower than the leaders. The #39 Ford Fusion could only post a fast lap of 23.828sec.compared to Mike Bliss' 22.908 sec. More changes for the second practice yielded nearly the same results as the team posted the 41st fastest time, not even close to making the race on qualifying time the next day. The decision was made to throw the kitchen sink at it. Springs, shocks, carburetor and track bar adjustment, and weight transfer were some of thethings changed on the car.

Saturday morning, the day of reckoning arrived, with more than a few concerned crewmembers hoping for the best. As the early morning sun began to warm the track, the qualifying speeds began to drop as MacDonald prepared to take the green flag in the 43rd position in the middle of the "Go or go
homers". As he so often does, MacDonald wheeled the car around the track on the second lap in 23.312second good enough for the 27th starting spot on the grid. There were smiles and huge sighs of relief afterwards back at the hauler.

MacDonald was relieved saying, "The crew made a lot of changes to the car after the final practice and there were the right ones obviously. It was so much better so I have to give Buddy and the crew all the praise. What a fantastic job everyone has done. When you think of how little time everyone
has been together, it is amazing what we have accomplished so far. Now we have to go out and have a good race. We wanted to qualify and we did; now we want to have a good race and be there at the end to finish. I can't thank Archie enough for giving me this opportunity. He is really a great guy."
Derocher was pleased after the qualifying saying, "This feels great. We did change a number of things but Eddie's got to get the credit. He did a lot of it himself and just did an awesome job. We beat some good teams so I am very proud of what we did. This is a pick-up crew. I had a couple of guys from
our East Series team and guys from the South who volunteered and we really worked well together. I know we still have the race ahead but I would raise a flag right now if I could."

St. Hilaire was equally pleased after the run saying, "This is great! I've wanted to do this for some time and things worked out well. Eddie did a great job out there and he deserves a lot of the credit. We know he is a great driver and we are looking forward to a good finish in the race. I know he can race with these guys."

With the hood of the #39 emblazoned with the picture of an outhouse with toilet paper trailing a guy exiting the facility, the car was definitely distinctive. Sponsored by Blow Bros. of Maine with the motto, "We are #1 in the #2 business" written on the paper itself, a little comic relief was felt before the green flag was thrown to begin the carnage filled race for nearly everyone in the field. Even the leaders were beating and banging on one another with tempers flaring throughout the race. MacDonald said afterwards, "It was like driving the bumper cars at Canobie Lake Park."

Unfortunately for MacDonald, a loose oil line on David Reutimann's car dumped a ton of oil in turn one on lap eight right in front of the #39. A six-car pile-up resulted with MacDonald's car sustaining left rear fender damage. The crew jumped into action for what would be the first of many pit stops throughout the race to repair damage. After three visits to pit road to repair the spoiler and beat down the damaged trunk lid, the car was able to stay on the lead lap. For a group that never worked together before, their work was unbelievable. Spotter Tony Micale did a fantastic job considering the number of wrecks going on all around the car also sponsored by Hancock Electric and A&B Vending.

The second of many caution flags to follow fell on lap 24 when a number of cars got collected including MacDonald who only received minor damage this time and remained on the lead lap compliments of a "lucky dog". As the caution flags continued to wave, MacDonald restarted in positions ranging from 19th to 28th. The real trouble began for the Go Green Team on the lap 130 restart after pitting for tires and a track bar adjustment. After getting the "lucky dog" MacDonald was in 21st on the lap 130 restart when the #24 of Eric McClure deliberately drove into the #39 in turn one just using the car as a backstop. McClure used the old adage that "eight tires are better than four" as he sent MacDonald spinning up the track. It was a bonehead move by a supposed veteran racer. Later in the race on lap
165, McClure pounded the outside wall hard after trying another bonsai move and had to be taken to the infield care center.

The damage caused by the McClure incident flat spotted the tires and the left rear finally blew on lap 154 while the team was waiting for a caution to come in to change the tires. Unfortunately, MacDonald was the caution. After the stop the #39 returned to the track battered but was able to race with the leaders through lap 227 when another yellow slowed the action. A green/white/checker finish mercilessly ended a race that left few cars unscathed. Most looked like enduro cars after a 150 lapper.

Even though Brad Keselowski won the race and we got to see Steven Wallace flip out, the real excitement was at the Go Green hauler. Despite the torn up racecar that was not a result of anything the driver did, the owner, crew chief, and crew were pleased with the 22nd place run and knew an
even better finish was possible had it not been for the rough driving by the series veterans. Overall, the success of the team left St. Hilaire and the team with the desire to do it again sometime in the near future. From what this writer has seen, this team can be competitive in this series. Go Green!

Amanda Leach from Mainely Motorsports chronicled the event and will televise her piece on Time Warner channel 9 on Wednesday at 8:00 PM. Replays of the show will be played at various times during the week so check listings for time and day. For those unable to access Time Warner, you may
go to Mainelymotorsportstv.com to see the show and interview with Archie and Eddie. The station plans to cover snow cross, ice racing, charity snowmobile rides and other winter activities after the racing season.
EDDIE to RUN NATIONWIDE RACE at MEMPHIS 10/24
While Eddie was busy preparing for his upcoming race in the NASCAR Nationwide Series "Kroger on the Track for a Cure 250" at Memphis Motorsports Park, the veteran driver took a little time to reflect on his recently completed Camping World Series East season.

"I am very happy with everything we accomplished this season," said Eddie. "We were in the race for the championship going into the last race at Dover and to finish second in the points to a great team means we had a very successful season. Of course, I would like to go back and fix a couple of problems we had a different tracks, but, all in all, we accomplished a lot as a team."

The success of the team at the track fell into the capable hands of the crew led by Rollie LaChance with Eddie saying, "It is great to see how hard Rollie works. He is so determined to make the car perform every week. We really understand each other and communicate so well after working together for several years. That is really the key. What can I say about the crew? Everyone works so hard. They are a great group of volunteer guys who make this all happen to be competitive every week."

For the last two seasons, Eddie has driven for team owner Rob Grimm in the #71 Grimm Construction Chevy and the team's fortunes have risen to the top with Eddie saying, "Rob has been absolutely great. He has made a huge difference in our racing program the last two years. Rob has provided the organization and the equipment needed to compete for wins and the championship. Having all the cars complete will make for a better season in 2010. I want to thank his wife Carla and the entire Grimm family for all their support."

Perhaps the team's biggest success this season, according to Eddie, was to come back to win the September race at New Hampshire Motor Speedway after taking two wins there last season. The most exciting race was being there at the end of the race at Lime Rock to finish second after struggling there in the past.

Sponsors are important to the success of every team with Eddie saying, "We have a group of sponsors who have been with us this season to help us out, NEMO, A&B Vending, Waymart Building Center, Hanover Place, Racing With Jesus, Daymark Solutions, and of course Grimm Construction. We could not accomplish anything without every one of them."

As mentioned, Eddie will compete this coming Saturday in the Nationwide Kroger 250 in the #39 Go Green Racing Ford Fusion owned by Maine native Archie St. Hilaire. "I am very excited to compete in the next level in racing. I thank Archie for the opportunity to drive against the elite in NASCAR. No doubt, it is going to be tough and a huge challenge but it should also be a lot of fun."

Eddie went to Mooresville last week to practice and left impressed with what he saw saying, "Veteran crew chief Buddy Derocher has assembled a great group of guys from the Mooresville area and they are really working hard so we can be competitive on the track. Everyone worked hard last week when we practiced at Caraway to get the car just right. This is the first time the car has run this season so there were a few problems, as expected, but Buddy and the crew worked to fix them at the track and back in the shop. I am confident we will be competitive."

BBI Waste Industries, a long time sponsor of the Go Green Racing Team, will be on the hood, with Hancock Electric of Quincy, Mass., and A&B Vending of Canterbury, N.H. also providing sponsorship.

"Kenny Thompson from Hancock Electric and Ed Dooley of A&B Vending really stepped up to make this deal happen," said Eddie. "We are always looking for sponsors, and we still are, but it seems these two guys are always there when we need someone."

The #39 will have to qualify its way in for the race but Eddie says, "We are going down there with the expectation of qualifying for the race and putting on a good show. The race will be nationally televised so I hope our fans will watch." The race will be run on Saturday at 3:00 pm.
EDDIE MAC TO ATTACK MEMPHIS IN NATIONWIDE SERIES

Go Green Racing, Inc and Eddie MacDonald of Rowley, MA are pleased to announce that MacDonald will be driving the Go Green Racing #39 at Memphis Motorsports Park on October 24, 2009 in the "Kroger on the Track for a Cure 250" sponsored by The Kroger Company, a retail grocery chain.

Go Green President and owner of the # 38 Camping World East Series team, Archie St. Hilaire, says "We are very happy to have Eddie driving the #39 car for us at Memphis. There will be many challenges for both the team and driver as we both step up to the second highest form of motorsports in the country. We purchased a Ford Fusion Nationwide car a couple of months ago and have been preparing the car down at our Mooresville, N.C . shop to enter a few Nationwide races before the end of the season to see if it is where we want to be for next season. We originally wanted Eddie to race at Richmond in September but agreed that he should focus on winning the Camping World East Championship this season for the first time in his career. This would be a huge plus for us going into Memphis and beyond."

Buddy Desrocher will be the crew chief of the 39 car headed to Memphis and will be assisted by Eddie's crew chief Rollie Lachance, who has lead Eddie to many wins over his career including the coveted "Oxford 250" this summer at Oxford Speedway in Oxford, ME along with two wins last year at New Hampshire Motor Speedway.

Eddie is excited about making the move up to the next level saying, "This is a great opportunity for myself and the Go Green crew to test ourselves against some of the best drivers in the country with Kyle Busch, Carl Edwards, Matt Kenseth, and Dave Gilliland already signed up for the race. Memphis is a fast ¾ mile track that challenges even the best NASCAR drivers. Hopefully after we finish New Hampshire and Dover with high finishes and hopefully the championship, we can concentrate on getting ready for Memphis with a little testing of the car at a short track near Charlotte."

The #39 car will be sponsored by BBI Waste Industries in Old Orchard Beach, ME . and longtime supporters of Eddie Macdonald Racing, Ken Thompson of Hancock Electric Motor Service of Quincy,Ma. and Ed Dooley from A & B Vending in Canterbury,N. H.

All PR inquiries can be directed to Tobin Trautz of Go Green Racing at 207-229-7239 or ttrautz@gmail.com
ACT Late Models at Oxford on Oct. 11th - 20th Place Finish

After struggling in practice and barely qualifying for the ACT feature in the last chance race, Eddie fell a lap down in early going and soldiered on to a 20th place finish.


MacDonald admitted, "We just missed it today. I don't know if it was tires or what, but we were trying a few different things. They didn't work. We kind of thought that we would use this as a test for next year's 250 and it definitely didn't work out. So we'll go back to what we had."
The Sunoco 150
Friday, September 25th - 4:45 PM

Eddie Second in CWES Points Standings with a 9th

Truex Claims Camping World East Crown at Dover
as fellow rookie Moffitt wins season finale

DOVER, Del. - A pair of rookies took center stage Friday at Dover International Speedway: Brett Moffitt came away with the Sunoco 150 checkered flag and Ryan Truex earned the 2009 NASCAR Camping World Series East championship.

Truex, a 17-year-old development driver for Michael Waltrip Racing, finished eighth on Friday but it was the performance throughout the 11-race season that put him in the championship Winner's Circle following the Sunoco 150. Truex finished his first season in NASCAR's top development series with three wins and eight top 10s.

"We didn't have the best car today, but I think we showed why we are champions," Truex said. "We can adjust on a car and make it better.

"I just can't say how much I appreciate everyone at Michael Waltrip Racing, everyone on my team, my parents and my brother. I'm really fortunate, and I can't explain how much it means."

The main championship contender for Truex – Eddie MacDonald – finished one position behind Truex in the race and wound up 34 points out of the championship (1,719 – 1,685).

"We based our race strategy on racing the 71 car [MacDonald]," said Mike Greci, crew chief of the No. 00 NAPA Toyota driven by Truex. "We were able to come out of here with a pretty good finish. We knew we had to come out here and race the 71, and they've been a first class team all year long, so we're pretty fortunate."

Eddie Shooting for the Championship at Dover Sunoco 150

NASCAR RELEASE

- DOVER, Del. – Continuing a season-long trend, first-year NASCAR Camping World Series East driver Matt DiBenedetto took little time to adapt to a new track.

The Joe Gibbs Racing development driver clocked a fast lap of 23.963 seconds (150.232 mph) in final practice Thursday in his first appearance at Dover (Del.) International Speedway. He was also second-fastest in the first practice session earlier in the day at 24.436 (147.324).

Kevin Swindell was the second-fastest driver in Thursday's sessions with a lap of 24.320 seconds (148.026 mph) during final practice and rookie Brett Moffitt was third-fastest on the day at 24.350 (147.844), also in final practice.

Matt Kobyluck led the way during the first practice at 24.347 seconds (147.826 mph) and Jeff Anton was third behind DiBenedetto at 24.499 (146.945).

Friday's Sunoco 150 will decide the 2009 NASCAR Camping World Series East championship. Ryan Truex enters with a 30-point lead on

Eddie MacDonald

while Jody Lavender is 102 points out of first place. Truex was 10th fastest in the first practice and 13th in the final session while MacDonald finished sixth and ninth, respectively, on the speed charts. Lavender was 23rd fastest in both practices.

Qualifying for the Sunoco 150 is set for Friday at 12:40 p.m. and green flag on the season finale will drop at 4:45 p.m.

A live audio stream of the Sunoco 150 action will be available on

nascarhometracks.com

, starting just prior to the green-flag.
EDDIE WINS TWO RACES AT NHMS

Weeks before the big NASCAR Cup weekend at New Hampshire Motor Speedway, the Grimm Racing Team set three goals. Taking the pole in the Camping World Series East Heluva Good! Fall 125 was the first. Defending the title earned last September in the race was another, and winning the first-ever ACT Invitational was the third. By Saturday night, each goal was realized.

On the biggest stage, Eddie captured the pole position on Thursday afternoon with a fast lap of 29.972 sec. (127.079mph) with the Rowley, Mass driver saying, "We have wanted this for a long time. Rollie (LaChance) really has this place figured out. We were second fasted in practice but I was in the Modified when the crew was working on the car so I really didn't know what they did but it sure was fast. I was able to drive it in really deep and get on the gas early. It was amazing."

After a forty-minute rain delay on Friday NASCAR officials shortened the race from 125 laps to 100 laps due to time constraints. MacDonald took the green flag and quickly opened up a five-car lead on the field. The NEMO sponsored Chevy did not pit on the lap 13 caution with most of the leaders, choosing to pit on the next caution. Eddie battled West Series driver David Mayhew for several laps before giving up the lead on lap 18, then pitting for gas, then tires on lap 30. The #71 restarted in the 27th position but began marching back to the front.

Eddie charged from 19th on a lap 46 restart with a three-wide pass and into eighth and into fifth at the halfway mark but couldn't find a groove saying, "I was searching but I couldn't find a great line. I moved up a little on the track and that got me a little free and the car felt super."

Running in fifth on a lap 81 restart with darkness beginning to be an issue, Eddie made the move of the race with an incredible three-wide pass through turns three and four to move into the second spot to set up a pass for the lead on lap 92. Another caution on lap 92 forced officials to try one green white checker finish on a lap 97 restart due to darkness and ending on the 99th circuit. Eddie jumped out to the front and held off Brent Moffitt and Ryan Truex for the win. When the day started Truex held a fifty point lead in the championship battle but with the win and bonus points the lead now stands at thirty with the final race of the season this Friday at Dover.

Eddie was thrilled with the win saying, " I can't thank Rollie and the crew for the work they have done throughout the season. As I said, Rollie has this place figured out and winning the pole and the race shows how good he is. The car was perfect. I knew I could drive the car three-wide and it would grip the track. It's awesome to know you can do that. We moved up in the points and now we need to go to Dover and do the same thing and see what happens. All I can say is this was a lot of fun for everyone. NEMO has been a great sponsor and I know the Daymark people really enjoyed the race. Thanks to all the fans that have been so supportive."

The win guarantees a spot in the Toyota All-Star Showdown at Irwindale Speedway in California in January pitting the top competitors from the East and West series.

With two of the teams goals achieved, the team set its sights on the first-ever ACT Invitational run at NHMS. Thirty-six teams were invited to compete in the 50-lap shootout that ran Saturday after the NASCAR Truck race. Eddie and Rollie's #17 Late Model received the invitation after winning the prestigious Banknorth 250 at Oxford Plains Speedway earlier this season.

With NEMO, New England Mechanical Overlay from Pembroke, N.H. as the main sponsor, Eddie started from the 19th position and charged into the third spot by the first caution of the race on lap 31 using his patented tree-wide move. After taking the lead on lap 35, Eddie battled youngster Brandon Watson, swapping the lead a couple of times before taking it for good on lap 45 to take the checkers.

Eddie said of the victory, "This is really special to win the first one here. These guys raced hard and clean and it was a lot of fun. I knew there would be some serious competition but I didn't expect it to be Watson and Sweet. They put on a great show. That is why this series is so much fun, you never know who is going to run good. My thanks go to Tom Curley and NHMS for giving us this opportunity to race here. There was a big crowd still in the stands after the Truck race and I hope they really enjoyed the show. This hopefully will be the first of many ACT races here and it feels great to win the first one."

After three days of winning, emotions ran high in the pits for the team. NEMO sponsor Ron Bennett said of the two wins, "I really don't know what to make of it, it is absolutely unbelievable. I am so happy for Eddie, his family, and the crew, they all work hard and deserve the win. I am just happy to be part of it. When I first got involved with the team it was simply to help out a friend but it turned into something much more than that."

When asked which win Bennett thought was more impressive he quickly stated,
"Next week at Dover!"

Team owner Rob Grimm said of the wins, "It is just amazing what these guys can do. Winning like this never gets old."

Crew chief Rollie LaChance said, "Any win at Loudon is absolutely huge. I don't care what it's in. In the Northeast, this is the place. So to win any show here is huge. To win two of these shows like this is, I don't know. I don't know what to think of it. To accomplish our goals in what we set up to do in the Camping World car, that was big. The gain on Truex, we would have liked to gain more, but it gives us a shot at Dover. That's what I wanted out of the weekend. I wanted a shot at Dover. We'll do our best. If it doesn't work, it doesn't work. So be it."

The onetime little team from the Northeast isn't so little anymore. With three Camping World Series East wins at The Magic Mile in the last four races and the ACT Invitational victory, the team is turning even the NASCAR Cup heads in the NHMS garage. The team has a brand new car ready to go for the final race of the season at Dover. It will carry a distinctive new look so look for the familiar #71 up front and racing for the lead.
Saturday, September 19th, 2009
New Hampshire Motor Speedway
Loudon, NH - 1.058 mile

EDDIE WINS the ACT Invitational 50!
Friday, September 18th, 2009
New Hampshire Motor Speedway
Loudon, NH - 1.058 mile

EDDIE WINS the Heluva Good 125!

EDDIE ON THE POLE AT NHMS!

NASCAR RELEASE - LOUDON, N.H. – A two-time winner at New Hampshire Motor Speedway a year ago, Eddie MacDonald earned his second career NASCAR Camping World Series East Coors Light Pole Award in advance of Friday's Heluva Good! Fall 125.

MacDonald, from nearby Rowley, Mass., laid down a fast lap of 29.972 seconds (127.079 mph) in Thursday's qualifying session to capture his second pole of the 2009 season. MacDonald won both New Hampshire races in 2008 and enters tomorrow's race trailing championship points leader Ryan Truex by just 50 points. Truex will start ninth.

Joe Gibbs Racing development driver Max Gresham was second fastest in time trials with a lap of 30.052 seconds (126.740 mph) in his first appearance at the Loudon mile. He was followed in the top five by Brett Moffitt at 30.105 (126.517), Joey Polewarczyk at 30.230 (125.944) and Matt Kobyluck at 30.328 (125.587).

The rest of the top 10 qualifiers included Kevin Swindell, David Mayhew, Ty Dillon, Truex and Jonathan Smith.

The Heluva Good! Fall 125 is slated to go green on Friday, Sept. 18, at 5:10 p.m.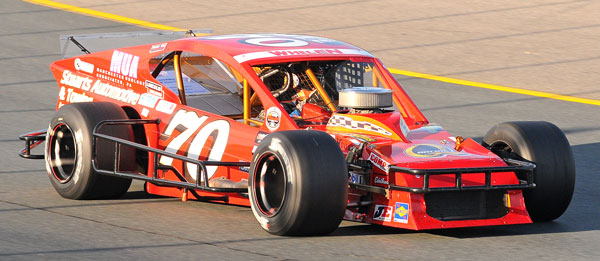 Eddie To Sub for Seuss in NHMS Modified Tour Race
- Posts a 30.397 for 28th on the grid -
NASCAR Camping World East Series driver and TD Banknorth Oxford 250 winner Eddie MacDonald will substitute for Andy Seuss in the #70 Stuart's Automotive/Manchester Urology Associates Modified in Saturday's NASCAR Whelen Modified Tour race at New Hampshire Motor Speedway.

Seuss runs a limited schedule of Northern Modified races in addition to the full NASCAR Whelen Southern Modified Tour schedule. When a rained-out WSMT date at Caraway Speedway (NC) was reset for this Saturday, Seuss' family-owned team looked at various options and decided on Tuesday to put MacDonald in the car while Seuss races at Caraway.

Full Coverage at localracing.nascar.com Here
MACDONALD CONFIDENT FOR SUCCESS AT NHMS

Eddie MacDonald will try to defend his NASCAR Camping World East Series title at New Hampshire Motor Speedway this Friday while hoping to taste victory in the first-ever Act Invitational race at the track on Saturday. MacDonald piloted the Grimm Construction Chevy to both wins last year at NHMS and qualified for the ACT Invitational after winning the famed Banknorth 250 at Oxford Plains Speedway this season.

The team is currently in second place in the East Series race with two races remaining on the schedule but MacDonald feels solid runs are the only things on his mind saying, "We are not counting spots where we have to finish or Truex has to run. We are going there to try to win. All we can do is run the best we can and see what happens. We know we can contend for the win on Friday. We had a chance to win the June race but it didn't happen."

MacDonald started on the outside pole in the June race at Loudon but slipped back to finish sixth saying, "The car was really fast, just like it was last year. We could've finished better in the June race there this year but our pit strategy was a little off. We are confident for the upcoming race because we have the same car, same set-up and we can make any adjustments needed and hope for the best. Rollie and the crew have really given me fast cars this year. Our Adirondack finish didn't really show how fast the car was and that was our worst finish in a while. The last four or five races, the cars have really been fast and I expect the same at Loudon."

The team has been well-supported by its sponsors with MacDonald saying, "Things have been great for us this year with Rob Grimm as the owner and with sponsors like A&B Vending, HMS Motorsports of Danvers, R.B. Fries, Waymart Building Center, Hanover Place, and NEMO. We have a new sponsor that I am very excited to have with us. Daymark Solutions from Littleton, Mass. has never sponsored a NASCAR team before so we are really pleased to have them aboard and hope to give them something to remember with a win."

New England Mechanical Overlay, NEMO, in Pembroke, N.H. has been a consistent sponsor for the #71 race team and MacDonald appreciates everything saying, "NEMO has been our tremendous supporter and their logo will be on the hood of the East car and on the hood and rear quarter panel on the Late Model for the ACT race. Becky and Ron Bennett have been there for us for years and continue to do anything we ask of them. It is people like this that allow us to compete at such a high level. Besides being sponsors, they are great friends."

The team is very excited to compete in the first-ever ACT race at NHMS and MacDonald says of the event, "I am really looking forward to this race. These ACT guys are a lot of fun to race with. It is a totally different driving style around the track. We had a great day of testing a few weeks ago and just as we thought, you can drive in the corners a lot deeper and get on it a lot sooner coming out of the turns. Even though the tires are not as wide at the East tires, they held up pretty good. There is some good competition and any one of a handful of guys could win it."

Preparing the two cars for Loudon and the Dover car, MacDonald knows the crew has been working overtime and appreciates the effort saying, " I couldn't count the numbers of hours Rollie and the guys have put in at the shop but I know it is a huge amount. Here they are, a volunteer crew, and they put in so much time, I can never thank them enough. I know one way to thank them and that would be to win both races, one each day. It would sure make all their hard work pay off."
DAYMARK
SOLUTIONS, INC
to SPONSOR MACDONALD at NHMS

Grimm Racing is pleased to announce the addition of Daymark Solutions, Inc to its team as a sponsor for the Heluva Good! 125 Camping World Series East race at New Hampshire Motor Speedway on Friday, September 18 as part of the Sprint Cup weekend.

Eddie MacDonald, driver of the #71 Grimm Construction Chevy, is very appreciative Daymark will be on board saying, "I can't thank Daymark enough for extending themselves to help out our team. As a small independent team we rely on so many people to help and I think it is great a company of this stature has decided to sponsor us for the race. I know a number of people from Daymark will be joining us for the race and I am really looking forward to add them to our cheering section. It means a lot to everyone on the team to know that we have the company and its workers behind us. A win for us will be really sweet."

The team is currently in second place in the points race for the championship and MacDonald believes a strong showing at Loudon will close the gap before the final race at Dover saying, "At this stage of the season we are down to the wire. We have had our success at Loudon last year and we are hoping to post another win there so we have a shot at the title. It should be a great race for Daymark and its employee family to be part of, so we are really excited and determined to put on a good show. Rollie and the crew have worked hard all season long so we can be in this position to win it all."

Daymark Solutions, Inc. headquartered in Littleton, Mass, is an experienced technology solutions provider focused on architecting, providing and implementing effective server, storage and backup/recovery solutions for businesses in the Northeastern United States. Clients include major financial institutions, biotechnology firms, service organizations, healthcare organizations and providers, hospitals, manufacturers and defense contractors. For more information about the company, please contact the website at www.daymarksi.com.

Practice for the race will take place on Thursday September 17 beginning at 11:30 a.m. with qualifying scheduled for 3:10 p.m. For more information contact the website www.grimmracing.com

This is Eddie's ninth year in the Camping World Series East despite being only 29 years old. Eddie began his career as a high school teenager racing at his family owned track, Lee USA Speedway in Lee, N.H. about forty miles from his Rowley, Mass. home. After experiencing success at every level at Lee, Eddie joined what was then called the Busch North Series. The series has evolved into today's NASCAR Developmental series that has fielded drivers from Joe Gibbs Racing, Dale Earnhardt Inc. among other Sprint Cup teams. Drivers Martin Truex and Joey Logano were former competitors in the series.

Things fall into place at times and one of the major elements of a successful racing program occurred when Rollie LaChance from New Gloucester, Maine agreed to come aboard as Eddie's crew chief four years ago. As they say, " good things come to those who wait." Rollie brought eighteen years experience in the Busch East series with 16 wins when he served as crew chief for eleven years in the series. Eddie and Rollie hit it off immediately and started posting wins and top five finishes while on an austere budget that shook the heads of the well-heeled teams they were competing against. As co-owners of a struggling team, Eddie and Rollie decided to sell one of their cars to buy a spec engine used in the series and that is where the partnership with Rob Grimm began.

Grimm Racing, from Waymart, Pa. had long been a sponsor of racing in that region, when Rob decided to buy a racecar for the Camping East Series and purchased the car Eddie and Rollie had for sale. The deal was struck and after much deliberation, Rob decided to keep Eddie in the car, with Rollie as the crew chief. Since that time, Grimm Racing, just two short years ago, has posted three wins, multiple top five and ten finishes and in title contention this year. Perhaps the most impressive of the wins occurred at New Hampshire Motor Speedway last season when the little unknown team from the Northeast captured both wins at the famed speedway.

Eddie says of the wins, "When Rollie and I hooked up we knew we could race together and have fun. He had a lot of success in the series and that a number of great drivers. His goal and mine was to win at Loudon and to win the Oxford 250 because that is in his back yard. As is turns out, we won both races at Loudon and this year we won the 250. The Oxford 250 has long been known as the richest short track race in the country for Late Model cars and to win that race has always been a dream. There are only two things we have left to do this year and one is to win another Loudon race and to win the championship. Of course, winning Dover will be pretty special also."

Rollie and Eddie have been together for four years and their success has been chronicled with wins and top five and ten finishes. However, the small under-funded team, as it was once called, received the boost it needed when Rob Grimm came aboard. Since that merger, the team has posted three wins including three top five finishes this year. When the Grimm racing team takes the green flag in the Heluva Good! 125 at New Hampshire Motor Speedway, Daymark Solutions will proudly be displayed on the car.
August 28th - ACT Tour Story
Eddie Is One of the First 22 Invitees
Announced for Sept. 19th at NHMS

Test Day at New Hampshire Motor Speedway - Weds., August 26th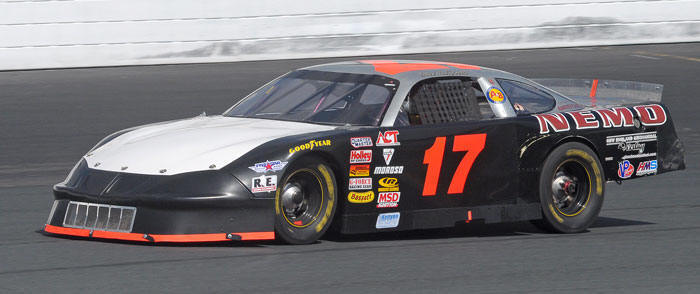 With his win at the Banknorth 250, Eddie joined the group of Late Model drivers from New England and Canada that had earned invitations to the ACT special event on Sept. 19 at New Hampshire Motor Speedway. Two test days on 8/25 and 8/26 for 57 invitees split into two groups served as both practice sessions for the teams to get comfortable at the 1.058 mile oval and test runs for ACT President Tom Curley to evaluate their performance as he selected the final 36 cars for the 50 lap race.
After solo runs in the morning and for 1 1/2 hours after the lunch break, "mock races" were held to give the drivers the feel of the starts and of drafting in packs since only 5 of the 57 had ever raced at the track before.
On Wednesday 8/26 Eddie displayed his mastery of NHMS by posting lap times about 1/2 second better than the other competitors and by charging to the front after the second trial start for the win in the "mock race." Wednesday was much cooler than Tuesday which had slightly slower times, so Eddie was the top performer of the invitees.

As Travis Barret notes in his GREEN-WHITE-CHECKER blog linked below, Eddie's performance placed him on the short list of ten initially selected for the event.
ACT Test and Tune at NHMS Day Two - ACT Tour Release

The American Canadian Tour completed their final test session at New Hampshire Motor Speedway on Wednesday, August 26. The two sessions this week were in preparation for the Inaugural ACT Invitational at New Hampshire Motor Speedway on Saturday, September 19.

Twenty-one cars were in attendance on the second day. With cooler temperature and overcast skies the track was quicker than during Tuesday's session and the speeds showed it. The cars were racy and proved that side by side racing was possible all the way around the track. The mock races were once again the highlight of the day with lots of action with a dozen cars running door handle to door handle around the entire track.

Eddie MacDonald has owned NHMS recently and used his previous experience on the "Magic Mile" to his advantage. MacDonald showed that he will be a true contender and probably the man to beat in the Invitational on Saturday, September 19. Also fast were ACT regulars John Donahue and part timer Ben Rowe, who also has some experience at NHMS.

After the completion of the two day test and tune session, it became apparent to ACT officials that an adjustment would need to be made on the draw system used to lineup the field for the Invitational in the spirit of competition and safety. An announcement on this system will be made early next week. The ACT office will also be releasing the first batch of guaranteed ACT Invitational qualifiers, based on their performance in the test session, soon.

Only four qualifying races remain before the Inaugural ACT Invitational at New Hampshire Motor Speedway on Saturday, September 19. The next qualifier will be determined this Saturday, August 29 at Autodrome Chaudiere in Vallee-Jct., Quebec, when 11 of the best ACT Tour teams battle 11 of the best Serie ACT Castrol teams in the Coors 200 Showdown. The remaining three qualifying races are the Twin State 100 at Twin State Speedway in Claremont, NH on Friday, September 4, the Bond Auto Labor Day Classic 200 at Thunder Road in Barre, VT, on Sunday, September 6 and the Fall Foliage 300 at Airborne Speedway in Plattsburgh, NY on Sunday, September 13.
Photos by
NormMarx.com
---
Photos by Jamie Williams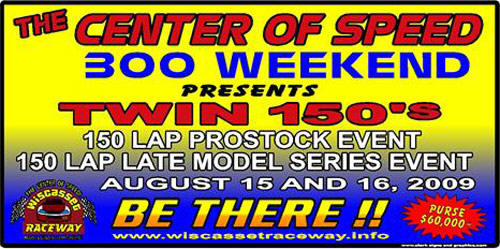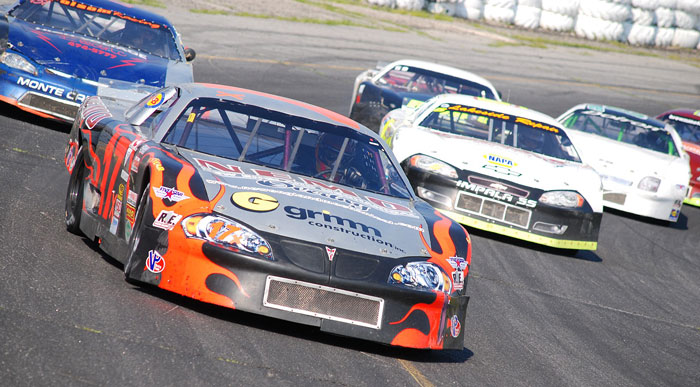 6th at the Late Model Wiscasset Twin 150
On Saturday, August 16th, MacDonald Motorsports took the #17 Late Model to Wiscasset Raceway in Wiscasset, ME to take a shot at the 150 lap Late Model segment which had a posted purse of
$30,000. Well, it was not a pretty race. When Travis Barrett uses "grueling marathon" and "carnage"
in his report (linked below), it's not going to be a nice story. Long, hot, and wreck-filled, the 150 laps started off with a bunch of cautions - so many that the decision was made to count all the caution laps towards the 150 instead of just tallying the green laps. Otherwise the 2 hour 20 minute race might have been another hour longer. Eddie was caught up in a multi-car tangle, but, missing the hood and with a rumpled nose and fender, he charged back to a 6th place finish....and much more work to make the ACT Invitational test day at New Hampshire Motor Speedway on 8/26. More at the G-W-C link.
CW East Race 9 - Sat., August 15th

Camping World East Series
NASCAR Mohegan Sun 200
at Lime Rock Park

Lime Rock Park
Lime Rock, CT -1.53 Road Course

---

IMPROBABLE SECOND PLACE FINISH
FOR MACDONALD AT LIME ROCK

Eddie MacDonald's fortunes appeared to take a turn for the worse halfway through the NASCAR Camping World Series East's Mohegan Sun 200 at Lime Rock Park. While cruising along in the sixth position, the transmission locked in fourth gear for the remainder of the race. MacDonald piloted the Grimm Construction Chevy forward and into a second place run for the green/white checkered finish on the 86th lap.

MacDonald joked about the stuck shifter saying, "I was hoping to have an automatic because I hate shifting and this was the closest thing to an automatic," before continuing, "It was really lugging down on the restarts and the left and right handers in turns three and four but those were the only spots that really hurt us. Everywhere else we were able to gain or maintain."

Two late race cautions forced the green/white checkered finish with MacDonald starting behind race winner Ryan Truex. On both restarts the #81, #61, and the #44 ran inside and outside but MacDonald was able to hold onto the second spot saying, "I was hoping we didn't have restarts at the end but the car picked up speed even though it bogged down a bit at the green flag and I was able to stay behind the #00 into turn one. The last one was really hairy with cars flying all over the place and it is great to finish second."

Crew chief Rollie LaChance planned to bring the #71 into the pits to fix the stuck gear after attempts to work it loose inside the cockpit failed but the team never got the chance when no caution flags flew until lap 71. It was decided that it was too late in the race to pit, so MacDonald muscled the car for the remaining 15 laps.

"It would have been interesting if we were able to get it fixed. With the car I had, I think we could have won the race. The car was great during the race. Rollie and the crew did a great job making adjustments after our practices. I just didn't like the way it was going so Rollie made the right moves. I can't say enough about our team. They are all volunteers and do an outstanding job every race. When you have people that dedicated and just love racing, it really makes me try that much harder."

MacDonald was seventh fastest in the first practice then falling to thirteenth in the second and final one. He qualified ninth (54.873sec/100.377mph) then started eighth on the 1.53mile road course when the #7 car went to the rear. MacDonald moved to fifth by the second caution flag on lap 12 and was content to run there. "The #18 was flying so we were just riding out there maintaining our position. We wanted to stop sometime after lap 20 for fuel and then we were good to go but just before the halfway mark the tranny got stuck in fourth gear and then the fun began," laughed MacDonald.

Despite the mechanical problem, MacDonald was able to run in the sixth position and into third by lap 67. The #18 was forced to the pits after tangling with two lapped cars on the backside of the track. When the green flag waved on the lap 77 restart, MacDonald was in the second spot and had to hold off road course specialist Jason Holehouse. Another caution two laps later forced the overtime.

After the race MacDonald was quick to add, "None of this would be possible without Rob Grimm and Ron and Becky Bennett from NEMO New England Mechanical Overlay and all the other people who have helped so much. We have two races left at Loudon and Dover and those are tracks we have run well at so hopefully we can end the season contending for the championship. We are in second place by 50 points and we've learned that anything can happen. Just look at today."

COCA-COLA MOVE OF THE RACE AWARD:
Eddie MacDonald, 71 Grimm Construction Chevrolet

---

Follow the action Fri. and Sat. lap by lap at:
localracing.nascar.com

---

14 Aug 2009
DiBenedetto on Pole, Koby(no)luck 21st
The luck of three-time Lime Rock winner Matt Kobyluck ran out during qualifying as a fuel-contamination problem ended his run before it started. Just as Kobyluck took the green to start his first hot lap as part of the final group qualifying for the NASCAR Camping World East Mohegan Sun 200, we heard a pop from his #40 Mohegan Sun Chevy on the front straight. By the time he exited Big Bend, the car was stopped – and so were his chances of qualifying toward the front.

But that isn't to say that Matt DiBenedetto wasn't going to take pole anyway. The part-time yet two-time winner (Tri-County and NHIS) turned a :53.727 lap in his Joe Gibbs Driven Toyota – after he saw Kobyluck's down Chevy – to nip points leader Ryan Truex by 2/10s of a second. It was DiBenedetto's second pole of the year; his first was also on a road course, Watkins Glen in June.

Third was Jason Holehouse, test driver and chief instructor for the Skip Barber Racing School. Starting alongside Holehouse is Brett Moffitt, sixth in points and winner of the South Boston race in May.

"I was on the start of a good lap when I had to slow for Matt's stopped car!" DiBenedetto said, "But I put another one together, then parked it. I would have headed back out if I had to."

Lime Rock is the ninth of 11 races in this year's NASCAR CWES championship, and the top six drivers in points – Truex, Jody Lavender, Eddie MacDonald, Kobyluck, Steve Park and Moffitt – are within 100 points of each other with three races to go. It is the closest points battle in the series' 23-year history. The Mohegan Sun 200 will play a large part in determining the 2009 champion.

Lavender qualified 14th, MacDonald ninth and Park 10th for tomorrow's 1:00 p.m. start.

Starting grid - Mohegan Sun 200 (km)

1. Matt DiBenedetto, :53.727
2. Ryan Truex, :53.900
3. Jason Holehouse, :54.464
4. Brett Moffitt, :54.541
5. Ryan Duff, :54.595
6. Mike Olsen, :54.694
7. Jesus hernandez, :54.766
8. Alex Kennedy, :54.787
9. Eddie MacDonald, :54.873
10. Steve Park, :54.947
11. Jeff Anton,:55.038
12. Jonathan Smith, :55.103
13. Dustin Delaney, :55.797
14. Jody Lavender, :56.038
15. Derek Ramstrom, :56.896
16. Matt Kurzejewski, :57.059
17. Scott Bouleym :57.349
18. John Salemi, :57.523
19. Alan Tardiff, :60.865
20. Tiffany Daniels, :63.624
21. Matt Kobyluck, no time
22. Tim Cowen, no time

#7 Duff and #35 Park will have to drop to the back for transmission and engine change respectively.
CW East Race 8 - Sat., August 1st

The Edge Hotel 150
presented by
Casella Waste Systems

Adirondack International Speedway
Beaver Falls, NY - .500 Mile



---

MACDONALD FINISHES TENTH AT ADIRONDACK
Eddie MacDonald scored his first ever Camping World Series East pole for the Edge Hotel 150 at Adirondack International Speedway with a time of 16.739 sec. (107.533mph). The Grimm Construction Chevy led the field with 101 laps but the handling went away late in the race causing MacDonald to slide back to tenth.

" It was so great to win the Coors Light Pole Award. We have been on the outside pole a number of times but this was my first in the Camping World East. I really thought we had a good chance to win this thing but the right front tire was just used up at the end. When I turned it in the corner, it just wanted to go straight."

When the green flag waved, MacDonald was able to establish a four-car length lead was not seriously challenged according to the driver, "I didn't have anybody pushing me but we started off tighter than we should have been and that started using up the right front tire. I was just riding around out there. When we got to a hundred laps I thought we could run the last fifty the same way but it gave out at the end. It would have been nice to win it from the pole but it just didn't happen."

Matt Kobyluck's #40 took the lead from MacDonald on lap 51 but the #71 was able to re-take the top spot eleven laps later. By lap 96, MacDonald and Jody Lavender were pulling away from the field with the #88 taking first on lap 112 with MacDonald saying, "At that point we were really starting to slide in the turns. Later on when I started racing the #00 for second it felt like I was on ice. At that point I just started going backwards. It's one of those things that happen. We were hoping for the win so it was disappointing to end up tenth."

The team will now prepare for the road course race at Lime Rock Park on August 15 and MacDonald feels confident the team can improve from third in the points with a solid run saying, "We had a pretty good car but the engine let go but we had a decent run in the back-up car. Hopefully we will definitely have a much better run this year and try to improve our position in the points."

---

UNOFFICIAL RUNDOWN: 1. PARK, 2. TRUEX, 3. LAVENDER, 4. HERNANDEZ, 5. KOBYLUCK, 6. TARDIFF, 7. DILLON, 8. MOFFITT, 9. SALEMI, 10. MACDONALD, 11. DELANEY, 12. SMITH, 13. CLOCE, 14. DUFF, 15. HOLEHOUSE, 16. GRESHAM, 17. KURZEJEWSKI, 18. ARTHUR, 19. BOULEY, 20. KENNEDY, 21. PECK

---

---

QUALIFYING: MacDonald Collects First Series Career Pole Award

Championship hunt heats up

BEAVER FALLS, N.Y. – In the middle of the championship hunt, Eddie MacDonald put himself in perfect position at the start of The Edge Hotel 150 presented Casella Waste Systems.

MacDonald, making his 118th career start, earned his first Coors Light Pole Award. MacDonald was the first driver out in qualifying and put down a lap of 16.739 seconds around the half-mile asphalt oval.

MacDonald enters the event nine points behind rookie Ryan Truex in the points standings with four races remaining. Truex will start 10th.

Rookie Brett Moffitt qualified second at 16.806 seconds (107.105 mph). Matt Kobyluck, who has won at Adirondack three times including last year, qualified third at 16.823 (106.996). Ryan Duff and Dustin Delaney rounded out the top five.

Alex Kennedy, who was fastest in practice, qualified sixth.